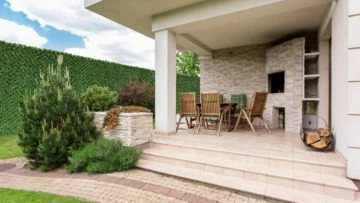 Building a privacy fence is a good way of improving your home's protection and privacy. Using either fence "pickets", ready-made panels, or grass walls, you can easily treat yourselves privacy and security. Building a privacy fence is not that complicated, so you can build your own fence from scratch. However, it still needs meticulous preparation and application. In this article, you will learn building a privacy fence in three phases.
1- Plan Your Fence
Planning is highly crucial. If you ignore it and set it to work straight away, you might be disappointed later, especially when you learn the average cost to replace privacy fence.
In many towns, you will need a permit to build your privacy fence. The permit is usually about the height and location of it, but in some cases, you are also supposed to specify what type of fencing you are planning.
Whatever your material, don't forget to review your fence plans with neighbors sharing your property line. This will help a lot to head off any future disputes with your neighbors.
Make sure you have determined your gates or any other obstacles that will keep a distance unfenced. You can spray lines on the ground for such parts. Otherwise, building a privacy fence gate will be daunting for you.
Also, learning about the average cost to install privacy fence or the average cost of privacy fence per foot before starting the job will help you have an idea about the expenditures.
2- Get The Right Materials and Tools Ready
Choose your fence building materials carefully. Considering your needs and expectations, you might choose between a wood fence, ready-made panels, or grass walls.
If you already have a wire or mesh fence and you want more privacy on that, you might consider an artificial grass wall on it, which will be more practical and economical for you.
You should also try to get the right material in the right quantity. It is a critical step because, for example, if you want to have double privacy with a grass wall panel, you should attach panels both inside and outside on the fence, which means you need to double the amount of grass wall panels in your shopping list. Even if building a privacy fence is possible in a DIY way, you can still consider consulting to a professional for this step. You can find professionals by searching for "privacy fence installation near me".
3- Follow The Procedure
You will learn the steps of building a privacy fence by installing an artificial grass wall since other types of fencing might be a bit more challenging for you.
One advantage of artificial grass installation is that it is possible to apply on various places such as a wire fence, stone or concrete walls, and so on.
If you already have mesh or wire fences around, it is even easier for you. Prepare your grass wall and other supplementary tools (zip/ cable ties and scissors) beforehand.
Compare the size of your wire fence and artificial grass; mark the cutting points of the grass panels carefully.
Once you are done with the final measuring, you can start attaching your artificial grass wall panels to your existing wire fence. You can practically attach the panels to the fence if you use zip ties carefully.
When you finish zipping at one side of the fence, you can move to the other side in order to pull and snip the excess ties so that you can get a tighter and fit-looking grass wall fence.
Building a privacy fence is over. Now, time to enjoy it!
17.08.2023