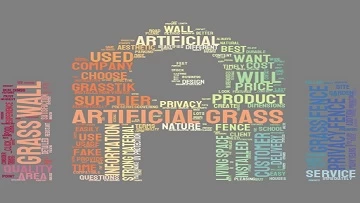 Why To Choose Artificial Grass Wall?
What Is Grass Wall?
Grass wall is an artificial fence that has dimensions of 4 and 6 feet in height and 8, 16, and 32 feet in length and you can use to provide privacy in your garden, pool and workplace. Not only it preserves privacy but also beautifies your living space in terms of design and aesthetics.
Do you have a great school and want to offer students a more natural and aesthetically pleasing environment? You have a very profitable factory and you want to create a living space in harmony with nature where your workers will spend better and quality time? Do you have a wonderful garden but want to install an aesthetically pleasing wallgrass to protect your privacy? If your answer to all these questions is yes, contact Grasstik company immediately.
If you want to buy something, you need to have enough information about it. An artificial grass wall is a fake grass fence produced using strong material, which is used to prevent bad images and create nature-compatible living spaces in areas such as schools, pools, road-site, restaurants, houses and buildings, warehouses, military fields, terrains, parking lots, and playgrounds. It is resistant to rust and oxidation. It is a product that appeals to the eye in design and decoration, as it does not harm nature and people. This product, also called a fake wallgrass, is formed by covering galvanized panel fences with PVC synthetic grass.
What Will Your Artificial Grass Wall Be Used For?
Artificial grass walls can be used to make our living spaces more aesthetic and more compatible with nature. They can be used indoors and outdoors, depending on your creativity. They can be used in houses, buildings, hospitals, roadsides, pools, factories, schools, military areas, patios, warehouses, gardens, terrains, parking lots, and playgrounds.
Where Is Artificial Wall Grass Used?
Artificial grass walls' usage area is quite wide. The customer's imagination and what they need determine the usage area. It has a flexible and ergonomic structure since it has different dimensions and a wide range of use. You can get detailed information about usage areas here.
How to Choose Artificial Grass Walls?
One of the points to consider when choosing an artificial grass wall is whether it has UV protection. Artificial grass with better UV resistance will last longer and thus you will relieve your budget.
The other point is that you will get rid of maintenance costs such as pruning and irrigation If you choose an artificial grass wall panels.
A grass fence is durable, as strong material is used and continues to beautify your living spaces for many years. In addition to these benefits, it provides many advantages.
Easy and Fast Installation
Grass fences can be installed by the client very easily with the DIY (do it yourself) method. It can be easily installed by the clients by examining the installation videos and documents prepared by the supplier company. Click for Grasstik grass fence installation videos. In addition, an artificial grass fence is installed by the company when requested.
Effortless Use
By covering your wrought iron, chain-link fence, wood fence, or concrete/brick walls with fake grass, you can have grass fences without the hassle of irrigation and pruning.
Durable Product
With the UV protection technology used, artificial grass fences are resistant to harmful sun rays. In addition, thanks to the strong material used in its production, you can use it for many years.
What To Look For In Your Artificial Grass Fence Supplier?
Company History
One of the things to consider when purchasing an artificial grass fence is the experience and knowledge of the supplier. Expertise in this sector closely influences the supplier's quality of service. Does the supplier have sufficient competence in product quality, price, and delivery? How are the recognition and awareness of the supplier? How is the feedback on their customer experience and do they have good reviews and testimonials?
Product and Pricing
A cost-efficiency analysis should be made by evaluating different companies, and the fake grass fence of the most suitable supplier in terms of aesthetics, price, and usage should be selected accordingly.
Quality
The early grass privacy fence products lacked innovation. Some did not have UV protection. Some were not made of strong-material, so they did not last long and did not provide good user-friendliness to the consumer. Grass privacy fence should be easily installed, cost-effective, long lasting, natural looking, low maintenance, washable, strong-material. Considering these features, choose your supplier and the grass privacy fence you will use. Click for more detailed information about Grasstik.
Delivery Charges
We save you from some of the delivery_charges as wallgrasses can be easily installed by DIY(do it yourself) method. Click to watch installation videos. However, if you wish, artificial grass fences can also be installed by our company.
Stock and Reliability
It is important how soon your supplier will deliver the product to you after the order has been placed. Stock status and the reliability of the company will reduce this time. Imagine that the artificial grass walls you ordered arrived in 1 month. How frustrating isn't it? Although no business can always guarantee on-time delivery, good businesses that prioritize customer satisfaction always keep this time short.
Online Service or Dedicate Customer Service
A business that cares about customer satisfaction should establish a solid customer service network. Issues such as customers' easy access to the company, proper promotion of the product, easy sales, and timely delivery of artificial privacy fences, must be fulfilled in a transparent and timely manner. Customers must be properly informed about the price. Grasstik privacy fences are offered to our clients with a service approach that includes the features listed above.
What is the Cost of Artificial Wall Grass?
The average cost varies between $1,800 and $8,000. In order to give information about the prices of artificial privacy fences, it is necessary to know the dimensions and details of privacy fences. The privacy fence measures to be applied to each zone will be different. Therefore, please contact us to get information about the price. When you contact us, you can ask questions and get information about the prices of grass walls.
Grasstik and Best Artificial Grass Walls
If you want to buy a fake grass wall that aims for quality and customer satisfaction, you can choose Grasstik, which is an expert in its field. You will use our artificial privacy fences for many years and save time and money. For more detailed information about our products, you can contact us and visit our website. If you want, you can create a request by filling out the form on our site. Authorized persons will respond to your requests immediately. Your questions about installation, delivery, price, and any questions about artificial privacy fences will be answered promptly.
We are proud of providing quality service to our customers in a timely and effective manner, together with our experience in the field of Grass privacy fences, and our qualified and expert team. Please contact us in case of negativities about our artificial grass and if you want to get information.
16.08.2023