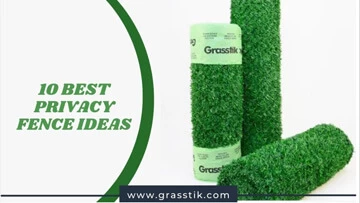 As understood from its name, the privacy fence ideas are provide you privacy. To apart your property in Los Angeles from the outside world, you put privacy fences around your home, your garden, or verandah. However, all the privacy fence ideas aren't the same way. To find the best privacy fences for your property, you have to answer any questions. For example; do you want a wood or metal fence? Maybe you want natural or lattice privacy fences.
Best Ideas for Privacy Fence
Bamboo Fence
If you're looking for something different from the fences you see around you, maybe the bamboo privacy fence ideas are up to you. Bamboo Fences are natural, do not harm the environment, and are easily painted in any color you want. Furthermore, Bamboo Fences are very solid and highly resistant to extreme heat in summer and precipitation in winter. This Bamboo Fences provides good fence privacy ideas as well as looking great inside and outside.
Trees and Bushes
It is your right to feel nature and relax in the fresh air in the backyard of your home. But instead of covering it with furniture and surrounding it with a fence that isn't pleasing to the eye, think differently about the landscape. It can be a superb privacy fence ideas to surround your garden with a hedge that lives on with trees and bushes.
For inexpensive privacy fence ideas, you can visit https://www.grasstik.com/contact
Slatted Wood Privacy Fence
Slatted Wooden privacy fence ideas provides some airflow in the space between the thin horizontal privacy fence slats and has a little visibility from the outside. It is classic and adapts to natural environments. You can amplify your privacy without building any wall while taking the pros of sunlight. Privacy wood fence panels used in your garden or around your deck, provide for a private space with its beautiful appearance.
Wall Fence
A solid wall satisfies your need for privacy and security. Wall Fences offer good privacy but aren't the first choice. The appearance of wall fences is boring. However, if done right privacy fence ideas, it can add a more beautiful look to the property.
Low Vinyl Privacy Fence
Privacy fences don't have to be very high. You may prefer a short fence. The White vinyl privacy fence ideas are good at providing enough privacy for your backyard. By decorating your garden in different colors, you can get a stylish look for your background.
Wood and Sheet Metal Combination
This privacy fence ideas are the type that combines sheet metal with vertical woods to create a beautiful privacy fence design. It is also a perfect design that combines classic and modern looks. You can add lantern light to the fence.
Classic White Privacy Fence
The Classic White privacy fence ideas provides a clean and modern sight to your garden. This traditional looking privacy fence isn't boring. It is easy to fix and provides a lot of privacy for you. If you want to get a plain view, this can be your ideal fence.
Wire - Chain Link Fence
When you think of metal privacy fence ideas, Chain Link Fences come to mind automatically. Chain Link Fences used in private and public properties, are made of metal and have a cross design. You can get chain link fences in different colors such as black and green.
However, you can't have enough privacy due to the space between the chain-link fences and the wires. Besides, it isn't suitable for security as it is generally easy to climb and it is thin.
Corrugated Metal Fence
This privacy fence ideas are included in our list because of the full privacy of your home garden. When you look around you, you will not encounter any fence like this. Although it isn't very easy to customize, if you like its sight, you can make it unique without adding anything.
Grass Wall - Grasstik
In fact, there is another way to make all these privacy fence ideas better. Grass fence is a product you can use in the fence types. You can easily install grass wall to any part of your fence or any part you want. So you can get a different sight. You can even use Grass privacy fences completely around your property in Los Angeles without using any other fences. This privacy fence ideas has a low privacy fence cost.
17.08.2023