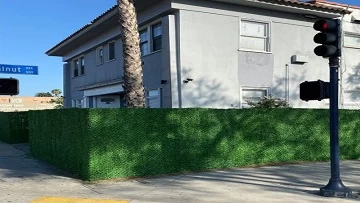 Are You Aware of Grasstik Privacy Fence?
What Is Grass Fence?
Grass fence is an privacy grass wall that has features such as washable, flame resistant, water-proof, natural look and can be used in homes, terrains, military areas, and workplaces.
Privacy Fence Panels
Grasstik is an artificial grass fence company based in the USA. Our company supplies fake grass privacy fence for usage areas such as houses, hospitals, terrains, military areas, sports areas, parking-lots, play-grounds, schools, factories, pools, warehouses, storages, shopping malls, and road sides.
Fake grass fence is a combination of fence and grass. Grass fence stands out among other fence types in terms of security, aesthetics and privacy. It can be preferred for indoor and outdoor areas in order to make walls and various fence types such as chain-link, wrought iron look green and natural. Generally, the other fences should be maintained at regular and frequent intervals, while maintenance is done at long intervals in grass fences. Thus, it saves the consumer from maintenance costs. In addition, since it is very easy to install, it also saves installation costs. Click here for installation videos.
Privacy fence covers bad-looking areas and turns them into a more beautiful and luxurious look. If you have aesthetic concerns, Grasstik privacy fences will both beautify your living spaces and save you from these concerns. Grasstik company, with its customer satisfaction-oriented services, delivers the products that you will not regret after purchasing them to you quickly and without any problems.
Privacy fence panel has features such as UV protection, washable, easily installation, flame-resistant, security, aesthetic look, water-proof, privacy, natural-look, low-cost, strong-material, and no gardener cost. We offer quality and durable products to our customers. wallgrasses are resistant to sunlight and do not fade for a long time. It is easily cleaned with its washable feature. It provides your privacy by protecting you from the gaze of your neighbors. With its natural and aesthetic appearance, it makes your home, garden or place to look more luxurious. In addition to all these features, we are one of the most preferred wallgrass companies with fast and reliable shipping and high customer satisfaction. Please click here to look at customer experiences.
Grasstik grass walls have many remarkable features. One of these features is durability. With its strong-material part, quality and cost-effective privacy fence panels do not fade or rust for a long. Another issue that our customers who want to buy Grass fences pay attention to is the bending and breaking of the product. However, if the company you prefer is unreliable and does not care about quality and customer satisfaction, you will be deprived of these features. Grasstik privacy fences is a product that you can use for many years without rusting, has low maintenance costs, attaches importance to privacy, cost-effective and has many usage areas related to your creativity.
People are moving away from nature with the increase in the number of buildings, houses, and urbanization. As a result of this alienation, they seek solutions that resemble nature, albeit artificially. Grass fences is one of these solutions. Green color is a symbol of joy, vitality and energy. Using green in living spaces will increase your living standards and bring you closer to nature. Artificial grass fences will not only bring you closer to nature, but also provide you with aesthetic living spaces.
Grass privacy fences are sometimes preferred due to aesthetic concerns, but sometimes they become mandatory. For example, if you can't agree with your neighbors about the house or garden boundary, you may have to build a privacy fence to solve these problems. On the other hand, you may want to protect the vegetables and fruits you plant in your garden from some animals. Privacy grass fences are a good alternative if you want to be protected from the foreign gazes of your neighbors or the surrounding area and to create a private area for yourself. If you want your pets to play in your garden without disturbing your neighbors and don't want them to get lost, it's time to buy a grass wall.
Artificial grass walls are not only useful, cost-effective, durable, but also environmentally friendly and reusable. In our world where climate crises are experienced, the importance given to the environment and nature is increasing day by day. Privacy fence panels can be reused as they are made from recyclable materials. Thus, our environment and nature are protected from harmful and unnecessary waste. In addition, fake grass walls can be easily assembled and disassembled and therefore used in other places. This is an important feature in terms of ease of use.
Grass Fence Ideas
Restaurants and cafes are where people come to relax. Therefore, the spacious and aesthetic appearance of cafes and restaurants should be at a good level. The better these conditions are, the higher customer satisfaction will be. In addition, the green color represents freshness, vitality and energy. Using the color green will make more people come to the restaurant and cafe. Wallgrasses containing the green color will allow your customers to experience this pleasure and comfort. This will save the owner more money. It can also be used to create partitions in cafes and restaurants and to decorate walls. When all these design and design ideas are applied, more aesthetic and natural looking cafes and restaurants will emerge.
Fake grass fence can be used for backyard-fencing in houses, villas and buildings. Especially in buildings where the distance between houses is short, people use privacy fences to protect privacy, because they are uncomfortable with being watched, and to have a more comfortable environment. Thus, you can get rid of prying eyes by installing grass privacy panels on the area you want. It also helps to increase security measures. Apart from outdoor applications, indoor applications are also available. Privacy grass walls can be installed on the balcony of your home. It can also be used on the walls for decoration purposes, depending on your creativity in the rooms.
Privacy Fence Costs
There are many factors that affect artificial wallgrass costs. The company where you will buy the artificial grass, product size, who will install wallgrass(supplier or consumer), and product quality are among the factors that determine the cost. In order to learn the prices exactly, the seller should be contacted. It is in your hands to improve the living spaces where you want to spend time with your loved ones. Please click for more information on prices. You can also create a request by filling out the form at this link. A response will be made as soon as possible and any problems will be resolved promptly. As Grasstik family, we are with you with high quality and customer satisfaction.
17.08.2023