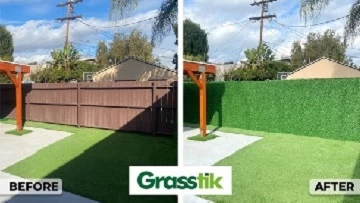 What is Grass Privacy Fence?
Grass privacy fences are artificial grass products that have features like waterproof, security, aesthetic look, and strong material. These features make your living spaces look cozy and add privacy and seclusion away from the prying eyes of your neighbors. Individuals are seeking for a variety of strategies to preserve the areas where they reside and visit, as well as to create attractive landscapes. Spending time in locations that are both secure and pleasant gets crucial. With Grasstik privacy fences, making spaces where you'll spend your days well has never been simpler.
When compared to their rivals, these artificial privacy fences usually win the race because to their exquisite design and attractiveness. Without assistance, installation takes only a few minutes. Quality and aesthetics are very important to us when providing privacy fence services. In order to live in locations that are both secure and aesthetically beautiful, you may also apply to privacy fences. With its visuality, it blends with nature and produces necessary modern places.
What Are The Best Places For Grass Fence Walls?
Many people like to live in a secure and private environment. With Grasstik privacy fence panels, wouldn't you like to spend your time where and how you please? Home, building, villa, school gardens, restaurants, pool sides, playgrounds, patios, cafes, shopping malls, sports venues, hospitals, hotels, parking lots, factories, military installations, terrains, and road sides are just a few places where it is employed.
CONTACT Grasstik Privacy Fences to get more information about the privacy fence prices.
What Benefits Do Privacy Fences Offer?
It can adapt to any environment thanks to its adaptable green color.
Its contemporary appearance provides a captivating vision.
Grass fence panels are used in various heights and widths.
The green color gives off a calm and pleasant sense that infuses the environment with freshness.
Today's fake privacy walls are amazingly colorful, secure, and remarkable solutions that create priceless moments.
Privacy Fence Features
In light of everything, don't waste your time and get in touch with Grasstik Privacy Fences to enjoy the life you want and enjoy the remainder of your life.
Artificial grass that looks like real grass is used to cover walls, fences, or even living spaces to create a private and appealing environment. Although the popularity of these grass barriers has been rising lately, it appears that it will continue in the upcoming days.
We are adamant that grass privacy fences will give color to your lifestyle because their color and beautiful look serve as a source of calm and relaxation.
For architects and designers with great taste, Grasstik privacy fences have become essential. Furthermore, since you won't be staring at piles of iron and concrete anymore, Grasstik fake grasses reduce eye fatigue when you look at greenery, so you won't experience stress.
Using grass fence panels in your homes or places of business might help you avoid tedious gardening chores like pruning, irrigation, ventilating, and fertilizing. By doing this, you'll effectively manage your time and go forward with confidence. Additionally, grasstik privacy fences last for many years with no problems.
Instead of another grass fence, you can use artificial grass to cover your balconies and build privacy walls. Therefore, without having to do any laborious grass mowing, you have created a special atmosphere from nature and a natural habitat for yourself.
CONTACT Grasstik Privacy Fences to get more information about the privacy fence prices.
Artificial Grass Walls
A type of plant called grass is typically produced after the seed is sown in the ground and after fertilizer, watering, and other types of care are done. Natural grass is good, but it is expensive and takes a long time to grow. Here, artificial grass walls that are cost-effective and efficient can be used. Simply get in touch with us if you want to use Grasstik quality to make your offices and residences more comfortable, serene, and quiet. This product is available on the market, but it is impossible to locate a cost-effective, high-quality privacy fence that can withstand years of crushing and is simple to install.
Grass Privacy Fence
Privacy is the phenomena where a person or a group of people wants their affairs to be kept private and out of the public eye. It serves as a barrier between you and another person's eyes. People have the most basic right to respect privacy. It is utilized in their houses, swimming pools, sports facilities, factories, hospitals, etc. in this context. People naturally seek privacy in public spaces and act accordingly, which is only natural. Because privacy is sensitive, Grasstik grass privacy fence creates products to preserve it. Aesthetic beauty is not compromised by a privacy wall.
Why is Grasstik Privacy Fence?
Despite the fact that there are numerous companies supplying artificial privacy fence, we perceive that you are urging us to select Grasstik privacy fence. One of the most important things to us is the satisfaction of our customers. Although we have not yet heard any complaints, we are still moving forward and shifting up a gear every day. With the utmost consideration for the clients we deal with, we market artificial privacy fence.
All four seasons, including snow, rain, wind, hail, and hose, can be employed with grass fences. With its washable characteristic, Grasstik privacy fences are simple to clean, saving you additional cleaning expenses. Both natural disasters and human activity can cause fire to occur. Such catastrophes can harm both people and property. The component of the Grasstik privacy fence that comes into touch with the fire does not transfer or pass the flame to other regions, making it flame-resistant. This characteristic indicates that the product does not cause the fire to spread over itself or to another area.The flame does not spread to the opposite side of the product when the artificial privacy fence begins to burn from one side. This is a feature that is solely related to the product; it lacks features like fire prevention for the area where it has been deployed. In the case of a fire, our product cannot stop the spread of the flames if the area or location where it is placed has a flammable component (wood, etc.). Although the substance may entirely burn where it is applied, in this instance, the substance itself only melts. Even if you use a lighter to burn our goods, you will notice that the flame burns out quickly.
According to Maslow hierarchy of needs, one of the most fundamental human needs is security. Some creatures that can disturb you cannot access your residence because of an artificial grass privacy fence. Because of their strength and the qualities of the surface or location they are installed on, grass fence panels block the entrance of animals like dogs and cats, but they do not block the entrance of flies, bugs, or reptiles like scorpions, snakes.
You can keep tabs on customer experiences under the testimonials area to gauge the importance of customer happiness. We deliver a high degree of client satisfaction by rapidly, specifically, and adaptably attending to your needs. Your requests for grass privacy walls are fulfilled quickly and on time. We can install a grass privacy fence for you if you choose. By watching the instructional videos on our website, you may install it by yourselves.
CONTACT Grasstik Privacy Fences to get more information about the privacy fence prices.
Privacy Fence
A privacy fence can be a great way to add some privacy to your yard while also giving it a natural and attractive look. One of the main benefits of a grass privacy fence is that it allows sunlight and air to pass through, making it a more environmentally friendly option than a solid wooden or vinyl fence. This can also help to reduce wind resistance, which can be important in areas prone to strong winds.
Another advantage of a privacy fence is that it can be easily customized to fit the shape of your yard and the height that you need. This flexibility makes it a great option for gardens, patios, and other outdoor spaces.
Privacy Fence Panels
A privacy fence panel, also known as a living wall or a green Wall which can be found in both indoor and outdoor spaces.
Privacy fence panels can serve a variety of purposes, including aesthetic, environmental, and functional. Aesthetically, grass privacy fences add a natural, green element to a space and can create a calming and soothing atmosphere. From an environmental standpoint, privacy fence panels can improve air quality and help to regulate temperature and humidity levels in a space to some extent. Privacy fence panels can also help to reduce noise pollution to some extent. Functionally, fake grass privacy fences can be used as a privacy screen or to divide a space. They can also be used to cover up unsightly walls or as a backdrop for events.
Privacy fence panels are a beautiful and functional addition to any space. They bring a touch of nature indoors or add a green element to an outdoor area, and can serve a variety of purposes depending on the needs of the space.
Grass Privacy Fence
In terms of maintenance, a grass privacy fence is relatively low-maintenance compared to other types of fences. The flexible material can be easily trimmed to keep it looking neat and tidy, and it can also be easily repaired if it becomes damaged.
Overall, a grass privacy fence can be a great way to add some privacy and natural beauty to your yard. With its flexibility and low-maintenance requirements, it's an appealing option for many homeowners.
Artificial Grass Privacy Fence
Artificial grass privacy fences are a popular choice for homeowners looking to add a touch of greenery to their yards without the maintenance and upkeep of natural grass. These fences are made from synthetic grass fibers that are attached to a fence panel or lattice, creating a natural-looking barrier around your property.
One of the main benefits of an artificial grass privacy fence is that it requires minimal maintenance. Unlike natural grass, which needs to be regularly mowed, watered, and fertilized, synthetic grass requires only occasional cleaning to maintain its natural appearance. This can save homeowners time and money on yard maintenance, and also reduces the environmental impact of traditional lawn care practices.
In addition to being low-maintenance, artificial grass privacy fences are also durable and long-lasting. They can withstand some harsh weather conditions and heavy foot traffic, making them a practical choice for busy families or homes with pets. These fences are also resistant to fading, so they will retain their vibrant color for years to come.
Installing an artificial grass privacy fence is a relatively simple process. The synthetic grass panels are typically attached to a wood or metal frame, which can be easily mounted to an existing fence or wall. Alternatively, you can build a new fence using the artificial grass panels as the primary material.
There are also a variety of styles and colors available to choose from, so you can find an artificial grass privacy fence that fits your aesthetic and functional needs. Some options even include features like built-in irrigation systems or UV protection to further enhance the durability and lifespan of the fence.
Overall, artificial grass privacy fences are a convenient and stylish way to add a natural touch to your outdoor space while minimizing maintenance and upkeep. Whether you want to create a secluded backyard retreat or simply add a touch of greenery to your property, an artificial grass privacy fence is a great choice.
Advantages of Privacy Fences
Privacy fences are a type of fence that is specifically designed to provide privacy and security for the property they enclose. There are several advantages to installing a privacy fence, including:
Improved privacy: The primary purpose of a artificial grass privacy fence is to provide a physical barrier between the property and the outside world, which can help to increase privacy for the homeowner.
Security: Privacy fence panels can also provide an additional layer of security for a property. They can help to deter would-be burglars and provide a sense of security for the homeowner.
Noise reduction: Privacy fences can also help to reduce noise from the outside, making a property more peaceful and quiet.
Increased property value: A well-maintained grass privacy fence can add value to a property by improving the appearance and increasing the feeling of security.
Enhanced outdoor living: Privacy fence panels can create a sense of separation between the property and the outside world, which can make the outdoor living space feel more private and secluded. This can be especially useful for those who enjoy entertaining or relaxing outdoors.
Increased safety: Privacy fence panels can also help to keep children and pets safe by enclosing the property and preventing them from wandering off.
Energy efficiency: Privacy fences can also help to improve energy efficiency by providing an additional layer of insulation for the home to some extent. This may help to keep the home warm in the winter and cool in the summer, which can result in lower energy bills to some extent.
Privacy fence panels offer a number of benefits, including the following:
Low Maintenance
The term "low maintenance" refers to the fact that privacy fence panels do not need to have their appearance maintained on a consistent basis in order to maintain their stunning appearance. Contrary to genuine plants, privacy fence panels do not require any additional care to be alive, including the provision of water, sunlight, or fertilizer. After the privacy fence panels have been installed, there will be no need to use any additional effort, time, or resources to ensure that they continue to have a robust and healthy appearance. Because of this, privacy fence panels are an excellent choice for individuals who do not have the time or finances necessary to properly care for live plants.
In addition, because privacy fence panels are not susceptible to insects or diseases, privacy fence panels do not need to be treated with any kind of pesticide or other chemical before installation. Privacy fence panels do not require any trimming or pruning, which is another way in which time and effort can be saved.
Overall, privacy fences offer a number of benefits for homeowners, including increased privacy, security, noise reduction, and improved property value. They can also enhance outdoor living and increase safety and energy efficiency.
Durability
The ability of an item or material to survive normal wear and tear over an extended period of time without exhibiting noticeable symptoms of damage or deterioration is referred to as its "durability." When referring to a grass privacy fence, the term "durability" refers to the privacy panels' capacity to preserve their visual appeal as well as their structural integrity over an extended period of time, despite being subjected to a variety of environmental conditions such as high temperatures, high levels of humidity, and direct sunlight.
Privacy walls are often produced from plastic or other man-made materials, as these types of materials are more durable than real plants. When exposed to UV rays, privacy walls do not lose their color or fade. Because of this condition, a privacy wall can last for a long time without needing to be replaced. Finally, privacy walls are a cost-effective option throughout their lifespan.
CONTACT Grasstik Privacy Fences to get more information about the privacy fence prices.
Versatility
When we discuss an item or a material's flexibility, we are referring to its capacity to be utilized in many different ways or settings. This might be anything from a variety of different jobs to different kinds of environments. When we talk about the adaptability of an object or of a substance, this is exactly what we have in mind.
This could happen at home, work, or anywhere. "Versatility" in privacy fences refers to their adaptability. A privacy wall can be utilized in offices, homes, and businesses to create a natural-looking wall or divider. Brick, stone, or wood can do this. There are various ways to accomplish this. Use a screen. Use wood, stone, or concrete to achieve this goal. This talent can be used in many interior design situations. Privacy walls can also be used as decorations or to separate your personal space.
The panels of a privacy fence can be used as a decorative backdrop for a party or wedding. There are several other instances of this type, such as:
Stores and shopping centers can benefit visually from including privacy fence panels in their design. Spaces dedicated to retailing include both freestanding stores and enclosed malls.
Marketing and advertising: privacy fence panels can be used as a backdrop for events like product unveilings and trade shows. Marketers might utilize the occasion as a springboard for ad initiatives.
Privacy fence panels can be used to create a relaxing and attractive environment in hotels and other lodging facilities. The hospitality industry might benefit from installing these privacy fence panels.
Privacy fence panels are a popular choice because of how well they adapt to diverse environments and uses.
CONTACT Grasstik Privacy Fences to get more information about the privacy fence prices.
Why to Choose Privacy Fence Panels
Privacy fence panels can have a positive impact on your well-being in several ways.
Relaxation: The natural appearance of Privacy Fence Panels can create a sense of calm and tranquility, which can help to reduce stress and promote relaxation.
Positive atmosphere: The aesthetic appeal of Privacy Fence Panels can enhance the overall ambiance of a space, making it more inviting and comfortable for people. This can improve your overall mood and well-being.
Increased focus and productivity: Studies have shown that having plants in a space can increase focus and productivity, which can be beneficial for those working in an office or other professional setting. Privacy Fence Panels help to provide productivity and focusing.
Privacy:Privacy fence panels can also be used to create a privacy barrier, which can provide a sense of security and comfort. It's worth noting that privacy fence panels can also be a good option for people who may have allergies or other conditions that make it difficult to maintain live plants. Additionally, if you live in an area with a harsh climate or limited natural light, privacy fence panels can be a great alternative to live plants.Overall, privacy fence panels can have a positive impact on your well-being by creating a natural, relaxing and aesthetically pleasing environment, while also providing functional benefits such as privacy and improved air quality.
Privacy Fence Costs
Grasstik privacy fence costs are affordable. What we mean when we talk about the cost-effectiveness of a product or service is that it provides adequate value in comparison to its price. Many people are able to afford privacy fences because they are more affordable than other options like real plants or landscaping. Because of this, they are frequently purchased.
In addition, given that privacy fences are typically manufactured from plastic or other man-made materials, they can be mass-produced, making them a more cost-effective choice than alternatives such as real grass or living plants.
In general, privacy fence panels provide a solution that is both cost-effective and practical for individuals who are trying to add a natural and aesthetic appeal to their area while also saving money on the costs of upkeep and replacement.
CONTACT Grasstik Privacy Fences to get more information about the privacy fence prices.
Eco-friendly Grass Privacy Fences
To be good for the environment, a product or service must have a very small effect on the natural world. From an environmental point of view, a grass privacy fence is better than alternatives like living plants or landscaping. This is what is meant by "eco-friendliness."
Grass privacy fences are an eco-friendly option for people who value a natural and aesthetically pleasing appearance in their outdoor spaces without sacrificing environmental sensitivity.
The addition of privacy fence panels can enhance the feel of any space by creating a more relaxed and natural appearance.
When we talk about something having an aesthetic appeal, we're talking about how visually appealing it is. The word "aesthetic appeal" is most typically used when referring to the impact that privacy fence panels have on the overall visual appeal of a specific region.
Putting up privacy fence panels can transform any area into an illusionary enclosure.These privacy fences make it look like grass is actually growing on the walls. An indoor place can be made to feel more like an outdoor one, or at least more serene and tranquil, with privacy fence panels' help. Fake flowers and other plants adorn the panels of some privacy fences, adding a splash of color and texture to the otherwise monochromatic setting. That's a plus for these privacy fence panels as a means of securing personal space.
Privacy fence panels enhance a space's atmosphere. Grass comes from nature. This is useful in professional environments where the atmosphere can alter clients' moods.Privacy fence panels can make an area more attractive and pleasurable. This enhances the room's atmosphere.
Enhance Your Garden's Aesthetic with Grass Privacy Fence Panels
If you want to landscape your garden, the number of options available to you is as much as your imagination. There are countless ways to organize your garden, using a grass privacy fence is one of the options.One of the most loved places in a home is the garden. The reason why people are interested in gardening is not just to spend time. Gardening has become one of the activities that are done regularly every day. some people have become spending most of a day in their gardens.
Being in nature, gardening is one of the activities that relaxes the human mind. If you feel overwhelmed in closed walls and feel more comfortable in the garden, you will want to make your garden more visually pleasing. This is precisely the reason for the growing popularity of privacy fence panels.
Everyone has heard of privacy fences, which are growing in popularity. Grass privacy fences with artificial grass on them are becoming more and more in demand and gaining more and more people's appreciation day by day. The advantages of this product are countless: providing the privacy people need, creating a private living space and being extremely useful for landscaping are just a few of them.
People often think that landscaping is easy, but there are many things to consider. You may have some amazing ideas in mind before you start, but in the later stages you may need to be more organized. you don't have to worry at this point because we are here to provide you with professional support and answer your questions about privacy walls. Privacy walls have become one of the most preferred materials by people. Longevity, the privacy it provides, and a visually pleasing stance are some of the reasons why this material is so preferred. We, companies in the professional garden arrangement sector, recommend you to use privacy fence panels in your garden to provide a more aesthetic appearance for the arrangements you will make in open spaces. Again, we are here to provide you with professional support and discuss how to use privacy fences more creatively.
Decide how you want to utilize your living space to create a more polite and private space for the eyes of your family members and place them in the appropriate areas for your garden. Think about how you would like to use these materials. If you find it difficult to imagine or can't think of anything, you can draw on a computer or use old-fashioned pencil and paper.
The most difficult step for you is deciding where to place the privacy fences. After this decision, most of the work is over. Because at this point our work begins.
If you are going to prefer artificial grass privacy fences in your garden, what you need to do is to deal with a company that does this job skillfully. choosing fences with artificial grass on it should provide the privacy your family needs and the company you will deal with should be the company that provides the optimum benefit for you.
The components that go into the production of privacy fence panels are not detrimental to either humans, animals, or the natural environment in any way. As a result, you can select this product without any concerns or worries.
How much does a Privacy Fence Cost?
Privacy fence costs vary between $1,800 and $8,000.The cost of fake grass privacy fences is rather low. The fences may be had for a reasonable price, and the costs of both installation and upkeep are manageable. Items made using artificial grass are recognized to be more cost-effective than comparable products made with natural grass. From the many possibilities, you have the ability to pick the one that is most fit for your financial situation.
When it comes to fake grass privacy fences, the actions that are necessary to keep natural grass clean and hygienic do not need to be taken because of their synthetic construction. This is in contrast to natural grass, which requires these steps in order to be kept clean and hygienic. Get in touch with us if you're seeking an inexpensive privacy fence and questions like how much does a 6-foot privacy fence cost per foot?
The Most Trustworthy Provider of Privacy Fence Panels
If you are looking for a manufacturer of fake grass privacy fences that has experience in this industry, a large number of completed successful projects, and a significant amount of positive feedback from clients, we would be pleased to present you to our firm.
Our company specializes in the development of fake privacy fence panels, which are produced using the highest-grade raw materials and a high level of attention to detail. Please get in touch with us if you would like additional information on the services that we provide to our clients as well as information regarding the costs of privacy fences and wholesale grass privacy fences.
08.08.2023