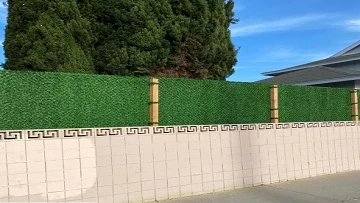 You Are Looking For A High-Quality Privacy Fence Panel But Can't Find It!
What is Privacy Fence?
Privacy fence is a grass wall that will make you comfortable in terms of security and privacy in factories, hospitals, roadsites, patios, storages, warehouses, and play grounds.
Artificial Green Wall
Grass walls, when it comes to features such as privacy, aesthetics, design, decoration, natural look and security, they are the first products to come to mind. Although its name was not heard in the past, wallgrass, which we have heard frequently recently, has increased its popularity and has become everywhere. This is because you are achieving many of your goals with just one product you buy. It not only protects you from foreign gazes and provides privacy, but also allows you to live in a natural and spacious environment.
When you want to buy anything, you want the product to be both appealing to the eye and functional, high quality, and cost-effective. Nobody wants to buy a product that doesn't appeal to you or if it doesn't "speak" to you. Nobody wants to buy a product that is both poor quality and expensive. Grasstik wallgrass panels offer our customers an easy choice in terms of price, quality, durability, and functionality. It is remarkable with features such as washable, strong material, easy installation, security, waterproof, and privacy. Artificial grass wall, besides being a multi-purpose product, has a preferable position because it has a usage area directly proportional to the creativity of the customers.
Why are Grasstik Grass Walls?
If you are thinking of purchasing a faux grass wall, Grasstik is one of the most suitable companies for you. Our patient, persuasive team, which cares about, quality and customer satisfaction, works with a focus on value. Your demands are our priorities. At Grasstik, our goal is to make the world greener. With our durable, cost-effective products, we continue to sell artificial green walls in compliance with the standards and put them on the market.
We are pleased to report that the grass fences, which we supply without compromising our efforts for both customer satisfaction and product quality, are one of the best products in the market. You can view the features of the grass walls we offer, their usage areas, feedback from our customers, installation videos, and before/after photos on our website. In addition, if you are looking for a cheap and high quality grass privacy fences and want to learn more about artificial grass and privacy fence panels, you can visit our website.
We show maximum sensitivity to requests and complaints from our customers. In case of any problem, we solve the problem immediately and enable our customers to shop more peacefully. All of our products have features such as being flame resistant, having a natural look, low cost, strong material, UV protection, and no gardener cost.
In addition, the chain link privacy fence is one of our most preferred products because it can be used in many areas. As the name suggests, iron wrought, chain-link, concrete/brick wall, and wood grass fences are our products that can be mounted on the fences you use and can be removed whenever you want.
Grass walls have lengths of 4'x32'(Height: 4feet | Length: 32feet), 6'x32', 8'x32'. It can also be divided into shorter sizes if desired.
Grass fences can be supplied as panels and rolls. Grass fence rolls are mostly used in sports areas, garden house walls, and parks. Grass fence panels are mostly used in gardens, entrance doors, walls of houses, factories, and hospitals.
Cost of Artificial Grass Fence Panels
It is impossible to say a price because the cost of fake grass walls should be evaluated together with many criteria such as quality, size, shipping costs, and the area where the product will be made. For this reason, we should talk about the features, usage area, and size of the product you want to buy by calling us and we should decide together. Since each project has its specific requirements, the prices vary accordingly.
Our expert team would be pleased to answer your questions about the privacy fence panel, its features, and its usage areas. If you want to get more detailed information, you can contact us via our phone number or e-mail address. You can also contact us by filling out the request form. Click here to reach us.
What are the Distinctive Features of Privacy Fence Panels?
The Grass Wall industry is a constantly evolving industry today. As the longing for nature and green increases with the increase in concrete and urbanization, the interest in the privacy fence panel is increasing. It attracts the attention of the sellers as it is a profitable business as it is used in many areas and attracts the attention of the buyers with its functional features. Grass wall panels are one of the popular products in the market due to the wide application areas. The fact that they can be used for different purposes depending on the creativity of the customer, that they can be used for many years, that they have strong materials, that they are resistant to sunlight, that they look natural and aesthetically pleasing, bring grass privacy fences to the fore. There are areas of use such as private areas, sports fields, pools, roadsides, and military areas.
Increasing its brand value day by day with its product quality and customer satisfaction, Grasstik, together with its experienced team, has become one of the most mentioned companies in the grass fence industry with its durable products. We continue to grow our company and supply higher quality products with our hardworking and experienced team, by fulfilling the requirements of the age of the industrial revolution and technological developments.
As we mentioned before, artificial wallgrass brings many advantages besides the abundance of usage areas. This causes a lot of demand from customers. We can list a few benefits of faux grass wall panels below:
Artificial green wall can be used indoors and outdoors depending on the creativity of the customer.
Contrary to natural grass, it is more preferred in terms of cost because it has less maintenance costs and less workload.
It can be easily installed and can be easily disassembled and used in other places when installed. artificial grass installation cost is quite low.
It can be used for many years because it uses strong material.
We all love the color green and nature. But sometimes we may not be able to reach completely natural products. Grass privacy fences provide both privacy and an aesthetic natural view among the concrete piles.
We can count more on the advantages we mentioned above. If you want to live close to nature and green in our world where naturalness is lost, you can create a beautiful living space for yourself with Grasstik grass fences.
17.08.2023